Emmerson Dambudzo Mnangagwa is plotting to take over as president soon and has managed to secure the support of Grace Mugabe by promising to make her vice president in 2018.

Zanu-PF insiders told The Zimbabwean this week that the Mnangagwa succession plot, which began with the elevation of Grace to lead the party's women's league several months ago, would involve sweet-talking the president, who turns 91 in two months, into retiring after 34 years in power.

Grace has reportedly bought the plan because Mnangagwa, who is said to be treating her with utmost dignity to ensure his plan succeeds, has promised her the vice presidency in 2018 when Zimbabwe holds its next general elections.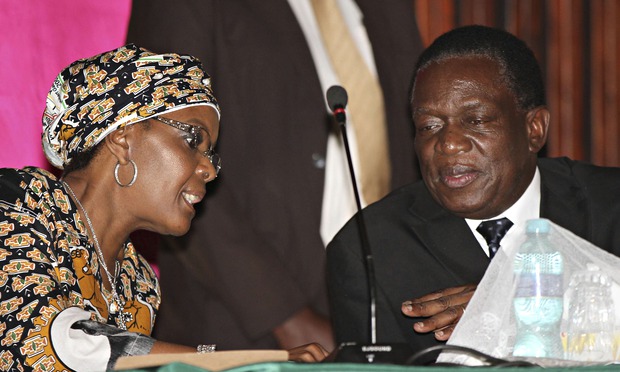 "While the initial plan was to persuade his wife to convince him to retire on his birthday next year, it could take a bit longer, depending on how Mugabe responds. But Mnangagwa and Grace are meeting and communicating regularly these days and information doing the rounds is that the First Lady has acknowledged to the new VP (vice president) that HE (His Excellency) is now too old and must rest," said one of the sources.

"Mnangagwa has pointed out to her that, by virtue of leading the women's league, her further elevation to the vice presidency will be easy. It is likely that she will be given the women's affairs portfolio in cabinet even though HE is still looking at that," he added on condition of anonymity.

Another source said the new senior VP persuaded Mugabe to let him keep the justice ministry because he intends to use it to control constitutional and legal processes that would favour his takeover as president.

But he did not specify what constitutional changes Mnangagwa would need to make in order strengthen his succession plan. The new constitution seems to favour him, as it specifies that Mugabe's immediate deputy would take over in the event of the president's death or incapacity.

"His (Mnangagwa's) succession plot is well thought out. HE bought into it when he believed the claims that Mai (Joice) Mujuru wanted to depose him. The presence of the First lady in the whole scheme has helped him a lot.

"The First Lady knows how frail HE has become and she has agreed with ED (Mnangagwa) that the sooner the president is made to step down, the better for them because it is possible that there would be internal strife if HE dies suddenly," said the second source.

Mugabe has been making embarrassing gaffes of late. During the recent congress he inadvertently denounced his own party after his wife passed him a note telling him to wind up his rambling speech. He seemed angry after reading the note and remarked: "This is what I go through at home!" The incident has been interpreted as proof of how much influence Grace now holds over him.

The sources said Phelekezela Mphoko, who is now the junior vice president in both Zanu-PF and government, was a mere seat warmer and could be forced out at any time. They added that Mnangagwa's scheme would be easy to carry out because he has managed to stuff the politburo and cabinet with his sympathisers.

"President Mugabe does not seem to appreciate what he has gotten into by trusting Mnangagwa. It is also interesting that the First Lady has been charmed but, in her case, it is because she has become power hungry," said one of the sources.


He predicted that Mnangagwa would take over any time in 2015, adding that part of his plot included removing the police, prisons and Central Intelligence Organisation (CIO) bosses and replacing them with securocrats aligned to him.

Augustine Chihuri heads the police and he is reported to already have been forced to tender his resignation while Paradzayi Zimhondi who is in charge of prison services is also reported to be on his way out. Happyton Bonyongwe who leads CIO and, like Chihuri and Zimondi has been linked to Mujuru, is also said to be facing the axe.
Source: Zimbabwean