Attempting to rape his teenage daughter six times in a bid to punish her for supposed promiscuity earned a Penhalonga man three years behind bars.
In a case presided over by Mutare magistrate Mrs Sekai Chiwundura, the accused, Wadzi Mbofana (45) from Grange Village, pleaded guilty to the attempted rape charges he was facing.
Asked why he committed the offence, he said he had been overcome by lust and was trying to satisfy her s*xual desires because she was becoming too promiscuous.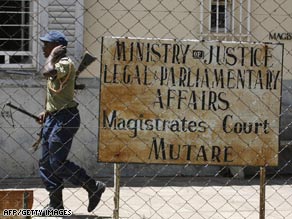 "I admit to the charge and I thought if I slept with her I would be helping her cool her hot pants because she was becoming too promiscuous. Another thing is that I was overcome by lust, Your Worship, because my daughter is quite good looking," said the accused.
For the State, Mr Brian Goto told the court that besides trying in vain to lure his child to bed; Mbofana was also in the habit of writing love letters to his child, proposing love to her.
"Sometime in November last year, the accused saw the complainant walking home with her boyfriend and he went on to assault her with an electricity cable all over the body until she ran away to a nearby bush. The accused followed in hot pursuit and tried to rape her when he caught up with her but failed to do so because she immediately cried for help and the accused did not want anyone to know," said Goto.
The accused did the same on five other occasions, but the complainant remained silent for fear of victimisation.
The matter only came to light when the complainant's mother saw one of the letters written by the accused to his daughter as she was going through her things.
Said Goto: "Upon interrogation by her mother, the complainant revealed her father's attempts to rape her and his incessant love proposals to her."
The complainant's mother then ordered one of her sons to tip the police and this led to Mbofana's arrest.
In passing her judgment, Mrs Chiwundura said: "You are being sentenced to four years imprisonment, one of which has been suspended for five years on condition you do not commit a similar offence. That leaves you with an effective three-year jail term.
Source: Manica Post