More than a thousand Zimbabweans have besieged the Harare magistrates' court in solidarity with #ThisFlag campaigner Pastor Evan Mawarire who is facing charges of inciting violence.
19:20 Pastor Evan has been set free.!Booooom. They are releasing him. The people have won! Evan is being released
19:13 And the riot police have all just left. All of them!. Crowd cheering.
19:07 Candle light vigil now underway. The delay by the court has inspired more Zimbabweans to join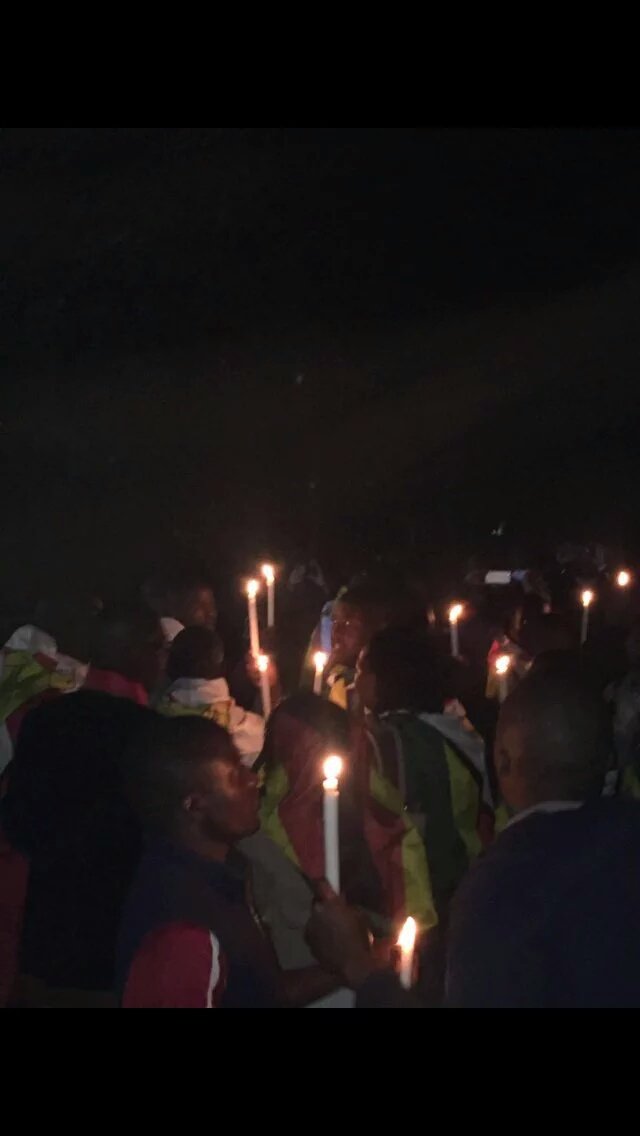 19:04 Riot police leaving. People are celebrating that the riot police are leaving! Hureeeeee!
19:00 Blankets and candles coming out..preparation for a long night. Some arriving with blankets and candles wow we are surely here for the long haul
18:45 The crowd outside the court…its getting bigger. Waiting
18:35 Magistrate and prosecution are delaying and keep consulting unknown "superiors". We are still here
18:20 Still here at the Magistrate Court, people are patiently waiting outside chanting down Mugabe

ZimLatestNews gives you live updates of what is taking place at the Harare magistrates' court: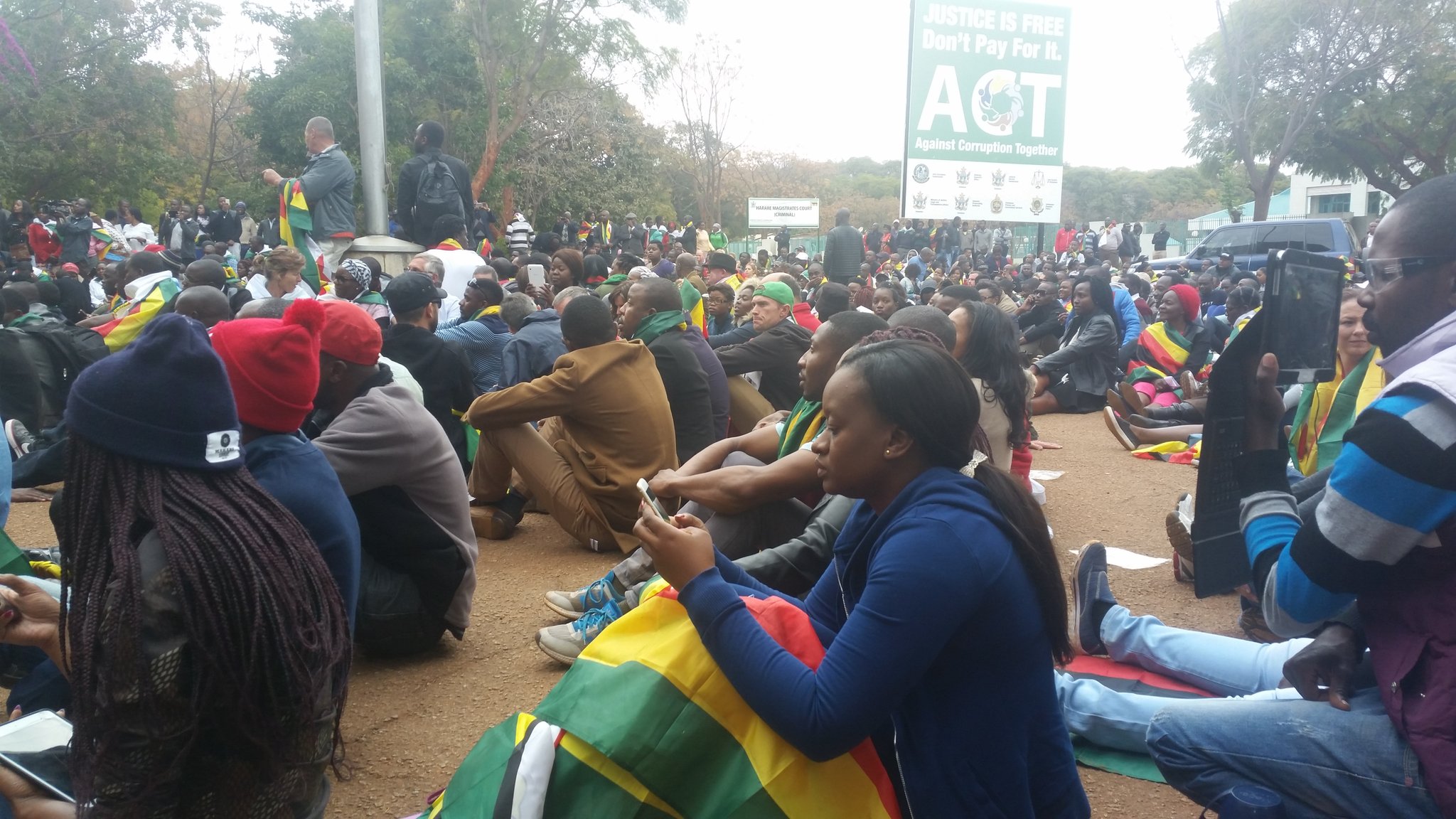 17:50 Court yet to resume, people are now praying inside the court room
17:11 People on their knees praying
16:55 Court Adjourns, ruling at 5:30pm
16:40 State says there is no 'warned and cautioned' statement for the fresh charges because the facts are the same as those for initial charge of inciting public violence
16:33 Magistrate is back, demands to see the warned and cautioned statement related to the latest charge
16:28 Harrison addresses people and says they have 20-30 minutes. The crowd is growing more agitated as time drags on while it also appears the state security agents are being beefed up outside. Slogans now being chanted
16:21 Defence lawyer Harrison has been asked by the magistrate to go and address thousands of supporters outside the court.
16:20 Magistrate has asked for a brief adjournment
16:06 State prosecutor argues that the "court is sitting to determine whether reasonable suspicion has been established and we have presented sufficient facts for accused person to be placed on remand, his arrest and court appearance is therefore legal"
15:58 More police reinforcements coming in as people gather at the court exit. There is some tension here as the court session appears to be coming towards the end.
15:30 The State prosecutor has asked for a 10 minutes adjournment, not back 25 minutes later. Magistrate waiting
15:28 Mawarire's lawyer Nkomo argues that his client's arrest and dentention was unlawful because he was never informed promptly of the charges at the time of arrest
Nkomo argues the Magistrate to immediately release Mawarire
15:25 Nkomo says the state abducted Mawarire and gives an example of Jestina Mukoko when she was abducted & urging the judge to throw out this case as was done on Jestina's case.
15:20 Nkomo says changing the charge is unconstitutional.
15:14 The State has opposed bail and advised Mawarire to go to High Court because he now faces a 3rd schedule crime
15:05 Police misled the magistrate to get search warranty.
15:03 Nkomo says the accused is unlawfully in court.
15:01 lawyer Harrison Nkomo accuses court of unprofessionalism …change of charges and now he informs Mawarire of the changes. Mawarire's lawyer Harrison Nkomo has complained about unprofessionalism and an ambush by the State. Mawarire is donning a Zimbabwe Flag in court.
15:00 #ThisFlag campaigner Evan Mawarire now in court. Proceedings have began.
14:46 The crowd outside the court has swelled. People continue to sing.
14:45 ZLHR spokesman Kumbirai Mafunda says state has changed the charge against Mawarire to "subverting a constitutional government" from earlier charge of inciting violence.
13:33 A woman weeps during a prayer session to free Mawarire.
13:32 Mawarire is yet to appear in court. People are singing in front of the court as more pour in.
13:01There is a battle at the door as #ThisFlag supporters want to force their way into the court.
12:25 Delay in court case…defence counsel says investigating officer left bail opposing affidavits at home.
NewsFlash:  The Magistrate presiding on the case is currently nowhere to be seen.
In retrospect: 
Zimbabwe police have reportedly seized #ThisFlag Pastor Evan Mawarire's mobile phone handset during a search of his home after his arrest on charges of inciting violence this morning, sources close to the developments have revealed.
In a search warrant that is circulating on social media, police are also alleging that Mawarire stole a baton stick and police helmet with the intention to incite violence.
Mawarire – who last week was one of those spearheading the largely successful nationwide stay-away – had earlier this morning reported to Harare Central Police Station with a bible and his flag but without his mobile phone.

11:44 Emotional moments as people sit in front of the court and start singing.
11:36 Anti-riot police closing entrance to court 6.
11:30 Mawarire back in court after being whisked through back entrance.
11:21 Tempers flare as police deny people entry into the court where Mawarire is reportedly in.
Police have since taken Mawarire back to Harare Central police station, apparently for further detention.
Dozens of police details, armed with baton sticks are also at the court where #Tajamuka pressure group leader Promise Mkwananzi made an address, reiterating they were not intending to cause any violence.